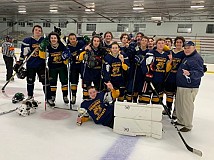 Kyle May (Tournament MVP) was key to success for U18s
The Northern Vermont Wildcats U18s won the Ocean State Lobsterfest Championship with a 2-1 win in 9 round shoot-out over a strong Mass Avalanche (2002) team.
On Friday night, the team trounced the Breakers by a score of 5-0. On Saturday afternoon, the squad took on the Mass Avalanche (2003) team. A strong Avalanche team scored first, but the pesky 'Cats scored to tie things up with 10 minutes left in the half and then with 37 seconds left in regulation to steal a 2-1 win over a good Avalanche team. On Saturday night, the team failed to disappoint once again, as the team scored with 13 seconds left to tie a good Wesco Penguins team. With the tie, the team advanced to the Championship Game on Sunday against another strong Mass Avalanche team.
Off an incredible goaltending performance by Kyle May, the 'Cats battled extremely hard in the Championship Game. The #1 seeded 'Cats took on the #2 seeded Mass Avalanche (2002) team. The Avs scored first with only 10 minutes left in the game. But the 'Cats would respond with 6 minutes left to tie things up. May stood on his head to bring his team into a shootout. After making 9 saves in a row, the 'Cats scored the game winner in the 9th round of the shootout to win the Tournament Championship title! Congrats to all players and Coach Henri Langevin!