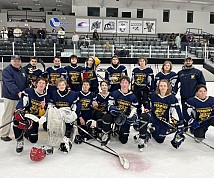 08/09s upset Secaucus twice to win Championship
Less than 36 hours before the Ocean State Spring Classic, the Northern Vermont Wildcats sent a mixed 2008 birth year & 2009 birth year team to the tournament, as well as a 2010 and 2011 mixed team. The 08/09 team competed in the Bantam AA Division, while the 10/11 team (with a 2012 birth year) competed in the top Peewee bracket of the tournament. The 08/09 team won the Spring Classic in dramatic fashion, while the 10/11 team fell to Central Florida in the top Consolation Game.
On Friday night, the 08/09 squad fell to a strong Stars team: 5-2. On Saturday morning, the team rebounded to beat a pesky Bearcat Academy team out of Florida: 6-0. In a must win situation, the 'Cats defeated the previously undefeated Secaucus Patriots team to enter a 3-way tie for 1st place. The 'Cats would advance to the Championship with the Patriots as the Stars were bumped out of contention giving up too many goals in their round robin games to compete for the Gold.
In the Championship Game, the 'Cats would prevail with a 3-1 win over the Patriots to take home the Gold. Congrats to coaches Henri Langevin, Trevor Simonson, Brent Carpenter, and all the boys on a great start to the 2023 Season! #RollCats