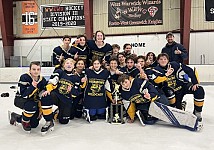 Bantam (Red) went 3-1-0 on the weekend to win the Spring Championships
The Northern Vermont Wildcats Bantam Red team kicked off their 2023 campaign at the North American Spring Championships in Attleboro, MA this past weekend. The team went 3-1-0 on the weekend to win their Divisional Championship!
On Friday, the team defeated a relentless S4 Hockey Club by a 6-2 score. On Saturday in a back-and-forth affair, the Navy and Gold fell to a strong Bearcat Academy team, 4-3. In a must win game, the 'Cats ran past Black Ice Hockey, 6-2, to punch their ticket to the Championship Game.
As the #2 seed, the 'Cats would face off against Bearcat Academy for the Championship. The Navy and Gold would score early, but the Bearcats answered right back to notch things up at 1-1. The squad would score to make it 2-1 with 10 minutes left in the 2nd period. With less than minute remaining, the Navy and Gold would punch one more goal in to seal the deal and take home a 3-1 victory and win the Spring Championships! Congrats to Coach Trevor Simonson and the entire team on a great weekend! #RollCats