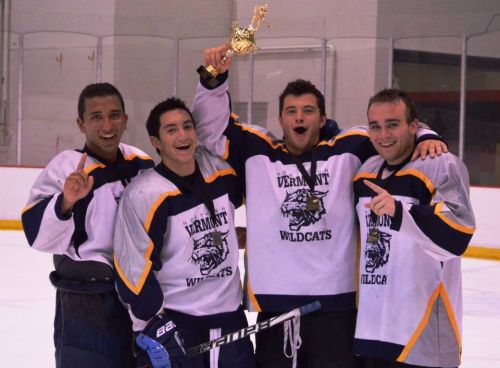 "Thanks for the tournament options you provided to Angelo this spring and summer. A bigger thank you for believing in him and giving him an opportunity to play! His skills have absolutely improved and so has his confidence! He loves playing hockey and he loves playing for Northern Vermont Wildcats.
Another thank you for not only bringing together great kids and parents but the coaching staff. They were absolutely amazing!
Angelo has made some new friends and was also able to catch up and play with some old ones.
Again thank you so much there are no words for the experience you offered him, as well as, the lessons, confidence and skills that came with it!"
"I wanted to write and say thank you for such a great weekend of hockey!!! WOW. It continually amazes me how you seem to select not only the best players but the nicest kids and families. Andrew has made friends that will last a lifetime and we have too. These hockey weekends have become our "family" vacations, in this case "family" is not related but loved just as much!! SO happy to be a part of this organization. THANK YOU so much for including Andrew. I hope he continues to make you proud!!
Can't wait to see everyone again!!"
"I didn't get a chance to say a proper thank you after the disappointing OT loss for the U17 Midgets in the playoffs at the NEC. You were off to yet another game, I don't know how you and the other coaches do it! Please forward my thanks on to all the coaches. The Wildcats proved to be literally a life changing opportunity for Seamus. Meeting kids with a similar passion and desire to challenge themselves to play at a higher level, seeing competition well above what he sees in Vermont D2 High School, and getting exposed to coaches who can help him move towards his goals and dreams. The Wildcats provided him with the exposure to be offered a chance to play Junior Hockey for the New England Wolves and open up a whole new chapter in his life.Thanks for seeing his potential and encouraging him."
"Thank you to you and all the other coaches this weekend. Tyler had an absolute blast and felt very comfortable not knowing anybody and made a ton of new friends in such a short period of time. Such an amazing organization all around parents, kids, coaches, etc. I can't thank you enough for all you guys do for these kids. We look forward to the next one!!"
"Just wanted to drop you a note thanking you for the weekend. This is xxx first summer playing for summer AAA teams. We've played with Valley Elite, OneHockey and the Wildcats so far this year, and by far, yours was the best experience. It was nice seeing such a dedicated coaching staff that wasn't just a dad wearing jeans and a Boston Bruins hat behind the bench who simply open and closed the doors for line changes. We don't have the expendable income that most hockey parents tend to have, so I think we'll be choosing your organization for many summer's to come and perhaps save money for maybe a good summer camp instead of Valley Elite and OneHockey tournaments.
I'd also like to thank you for seeing and believing in his abilities. He's not the flashiest player and doesn't really stand out, but he somehow seems to always be in the right places at the right time and finds a way to get things done. This is a major transition for him since he's only played "B" level local hockey up until now and your staffs trust in him has really raised the confidence level in himself.
So thanks again and I won't be attending Rhode Island, but best of luck and maybe see you again in the fall!"
"Such an amazing group of kids, parents, coaches, etc. Tyler my 2001 baby doesn't stand out like he has some games in his age group but has kept up with these kids that are juniors and seniors in high school pretty well. Some kids on his team have been signed by Junior A hockey and are amazing skaters and players! So far one assist for T but many chances to score! These kids and coaches have welcomed him right in and have all gotten along so well. Bittersweet last day in Rhode Island! Thank You Northern Vermont Wildcats for a great weekend of hockey!"
"By the way. This team is by far, the best team my son has ever played on. The maturity of the Wildcat players, and the calm, reasonable professionalism of our coaches on the bench. Always looking put together like a coach, not a hurried father that seems inconvenienced with his position. My son says at every Wildcat tournament he wishes this was his regular season team. It's an honor to be asked to play on this team. Being on the Wildcats had made him want to strive for a future in hockey. Not that it easy to have a future in hockey, BUT, being on the Wildcats is definitely a step in the right direction.
Thanks for what you do Anthony and the coaching staff."
"Anthony thanks for having Cameron on the team this summer. He had a great time and we hope you keep him in mind for upcoming teams..."
"Thank You Anthony, Henri, and staff. Tim had a good time skating with the Wildcats this spring/Summer season. We are already looking forward to being part of the Wildcats next season. Thanks for providing the boys with a competitive option for summer hockey."
"It was a fun and exciting season, Anthony. One that Rylan and I will never forget from the first hotel night at our first tournament!"
"Thank you so much for the opportunity this year. Michael enjoyed playing on the Wildcats this year and I enjoyed the experience as well as the parents."
"I want to thank you, your dad and uncle for a great season. I saw Brandon grow and become a better player, but more importantly we had a lot of fun. You guys run a top notch organization. I know I have said it in the past, but I really mean it. Thanks for the great memories!"
"Greg is and will continue to learn great hockey from you. He enjoys playing for you and being part of the Wildcats!!"
"Zach and I appreciate everything you have done for us in the past couple of years and we only have good things to say about you and the organization."
"I just wanted to let you know that Ryan will be bummed when I tell him as I know he has enjoyed playing for you for the short stint to date. Your energy and enthusiasm for the game has rubbed of on him. I will tell you we had spring tryouts at our organization this year and the fella coaching this year said he can see a difference from the end of last year already just by the way he carries himself on the ice. I chalk that up to him playing with better players as well as getting a different coaching perspective than me as I have coached his teams the last 3 years. Ryan is really enjoying himself playing with this team. I want to say thank you!! Hope to see you around the rink!!"
"You have been a good coach and a good example for the boys on this team. Greg has learned a lot from you these past 2 seasons. You have been a wonderful mentor to Greg. We appreciate all you have done for him."
"Thank you and for all that you have done to help coach Mitch in the recent months. He has, and continues, to enjoy and learn from being a Wildcat."
"Thanks for all the good work you have done with the team last year and this year to date. Ben's really appreciated your guidance and energy and love of hockey…"
"Thanks from the Jenks family for allowing Cameron & Parker to play with the Wildcats this season. They have thoroughly enjoyed their time with both you as coach and with the other players."
"...Conor has had a great experience with you and the Wildcats. Don't let parents cloud your vision and your love for coaching. You're doing a great job and best of luck with the rest of the summer and we look forward to some great hockey!!"
"Thank you for all of your hard work!!!"
"Thanks Coach Anthony for the invite! Been a fan of the N.V.W.H. since day #1. Congrats. Keep up the good work. A lot of fans are cheering you on!"
"On behalf of me, my husband and Dillon, we wanted to thank you for inviting Dillon to play on your team. It was a weekend of great hockey. The talent and personalities on the team were exceptional and Dillon is looking forward to playing in more games for you and with his new teammates."
"Thank you so much for offering us a chance to play with a stellar group of coaches and kids!"
"The rest of the Hart family wanted to say thank you!! Richard loved being part of the Vermont Wild Cats. For such a short season all the kids will be going home with so much!! This was a really good experience for Rich and he came out with a lot of memories of the games, new friends and he became a better overall hockey player from your experience and help."
"Thanks for asking me to be part of the team and helping me become a better player! I had a great time and I wish the season didn't have to end, it went by too fast."
"Anthony – thanks for giving Evan the opportunity to play this summer. He had a lot of fun and enjoyed meeting quite a few new players and making new friends."
"Thanks Anthony for your time organizing and running the program."
"And a huge thanks to you for all the hard work and inspiration you provided to the players on a very special team. Every player's going to bring back to their home program these experiences and be that much better a hockey player. The Wildcats played some amazing games and had some incredible comebacks – all memories to cherish!"
"I just wanted to let you know that when my son tried out for an elite team in March they stuck him on the lower level team. Last week, he played with a bunch of high skilled players against a team/hockey camp put together with a bunch of kids from New York City. Well, my son led all goal scorers and played extremely well. When the game ended the elite coach told him he wants him on his team. He said he was fast off the puck and never stopped hustling. So I think that says a lot; I know he's not the best player but working out and playing for you, plus him giving hockey much more focus tells me its time and money well spent. A great job with you and the coaches on making him what he wants and that's a better hockey player. Thank you from Lynn and me for the work you have put forward and keep pushing him, he's a big boy and I know he can handle it."
"It's amazing when a coach cares enough to bring out the best in ALL his players... not just SOME... 2 goals and 2 assists for RTW this weekend!! Thank you Coach Anthony Langevin, Coach Henri & Coach Stores too!! That's what REAL coaching is all about..."
"I just wanted to thank you again for giving Brandon the opportunity to play... It was a great experience for him and we both had a lot of fun! Kudos to you (guys)! You have put together a great team, with great kids and lots of talent!! You should be really proud to lead such a classy and talented organization. Please keep Brandon in mind if you have a roster spot in the future…"
"Off to watch #7 at Falcons training camp this afternoon before the big storm....thank you Anthony Langevin, this summer has already paid off for Ryan!!!!!"
"I just want to personally thank the Wildcat coaching staff this year. I know my son is ready to play at the next level, after having him play for you and your staff this summer..."
"You and your assistants did a great job this summer! Many parents don't realize what a privilege it is to have their sons not only be on, but INVITED to be on such a team. Great work this summer and we look forward to having him work with you in the near future."
"We couldn't be happier with our son's year as a Wildcat. The practices were excellent! But not only did he improve during the practices, he got a lot better with you coaching him during the games! Your knowledge of the game has produced great results!"
"Thank you coaches for giving my son the opportunity to play at the next level. My son had never been invited to play on such an elite team before and we can not thank you enough for giving him the opportunity, making him a better hockey player, and most importantly... having him love the game as much as you guys do!"
"Great job last summer Wildcats and more importantly, the Wildcat coaching staff. The coaches did an extraordinary job last summer. The Wildcat program is the best spring/summer program around!!"
"Thank you guys for sticking to your word of having every kid make the team of their choice in the fall! Our guy not only made the team but loves hockey more because of you guys!! Can't thank you all enough!!!"