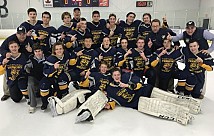 2001 Elite upset the top 2 seeds to win in Montreal!
The Northern Vermont Wildcats sent their 2001 Elite and 2002 Elite teams to the Montreal AAA Spring Showdown in Montreal, Quebec, Canada this past weekend. The teams did everything but disappoint in a great weekend of Wildcat Hockey!
The 2002 Elite team went 3-1-0 and punched their ticket to the Gold Medal Championship with a dominating 5-0 win over Black Ice Hockey in the semi finals. In the Championship, the team fell short to a very strong Queens Line Jets 02 AAA team from Ontario. The 2002 Elite team finished with the Silver Medal for the weekend. Nice work players and coaches Mark Murphy, Chuck Wiegand, and Jean Tardif.
Scores:
2002 Elite - 8, Powassen Hawks 02 - 1
Queens Line Jets 02 - 4, 2002 Elite - 2
2002 Elite - 7, Black Ice Hockey 02 - 2
Semi Finals: (#2) 2002 Elite - 5, (#3) Black Ice Hockey 02 - 0
Gold Medal Championship: (#1) Queens Line Jets 02 - 3, (#2) 2002 Elite - 0
The 2001 Elite team played up in the 2000 AAA division for the weekend. As the youngest team in the division, they impressed every opponent. The team defeated KDHS, 4-1, in the tournament opener. They then ran past Downsview Gold, 11-0, to start the tournament 2-0-0. Saturday morning was a tough test against the Patriotes de Quebec. The team fell 6-3 to the defending champions. Saturday night was another tough battle against the Northern New York Shamrocks. The Shamrocks got the best of the 'Cats and won 5-3. The 'Cats finished the preliminaries as the #4 out of 5 seed and punched their ticket to the semi finals Sunday morning. On Sunday, the team faced off against the undefeated, #1 seeded, and prior champion Patriots de Quebec. From start to finish, the 'Cats dominated the game and prevailed to a 6-2 win over Patriots. The Gold Medal Championship was fast and rough, but the team scored an empty net goal to seal the 4-2 win with 37 seconds left against the #2 seeded KDHS. Congratulations to all players, as well as coaches Mike Smith, Anthony Langevin, Dave Stores, and George Cairns on another tournament championship for this extremely talented group!
Scores:
2001 Elite - 4, KDHS 00 - 1
2001 Elite - 11, Downsview Gold - 0
Patriots de Quebec 00 - 6, 2001 Elite - 3
NNY Shamrocks 00 - 5, 2001 Elite - 3
Semi Finals: (#4) 2001 Elite - 6, (#1) Patriots de Quebec 00 - 2
Gold Medal Championship: (#4) 2001 Elite - 4, (#2) KDHS 00 - 2