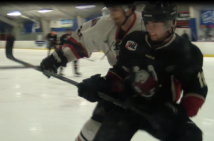 Walker currently skates on the NVW Junior A team
The Northern Vermont Wildcats are excited to announce that 1997 birth year power forward Nate Walker has committed to play NCAA Division 3 Men's Ice Hockey for the Framingham State University Rams.
The Rams play in the MASCAC (Massachusetts State Collegiate Athletic Conference) and are coached by Guy Angers. The Ithaca, NY native led the Syracuse Stampede of the NA3HL in scoring for his two seasons with the team with a combined 57 goals, 56 assists and +49 in 76 games.
With the Wildcats, Walker has always scored many clutch goals. Walker contributed over a handful of goals to last year's Junior A team which shocked the nation in taking 2nd out of 20 at the Hub Cup Junior A Showcase, and 3rd out of 78 teams from around the world at the Senior Chowder Cup Junior A Showcase. A natural goal scorer with great heart, Walker will be a great addition to Framingham State.
We'd like to congratulate Nate and his family on ths great accomplishment and wish the Rams luck on the ice for the 2017-18 season!