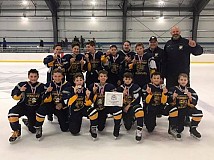 2005 Elite team went 4-0-0 en route to the Championship title!
This past weekend, the Northern Vermont Wildcats sent their 2005 Elite and 2006 Elite teams to the GMA AAA Spring Classic Tournament in Jay Peak, VT. Both teams stunned top canadian competition by having the program sweep the tournament!
The 2005 Elite team competed in the 2005 AAA division for the weekend. The squad defeated the Battalion AAA from Canada, 5-4, in Game 1 of the tournament. The 'Cats would then cruise to victories over the Quebec Jr. Lions and GMA. A rematch against the Battalion AAA team in the Championship Game was intense and exciting, and the squad held on for a 4-3 win! Nice work to all of the players, as well as coaches Henri Langevin and Tom Jacques!
The 2006 Elite team competed in the 2006 AAA divison for the weekend. As the only American team in the tournament, the team faced some of toughest spring hockey teams in Eastern Canada. On Friday night, the squad held on for a 2-1 victory over the Bradley Bruins from Ontario. On Saturday morning, the 'Cats skated to a 0-0 tie against the Ottawa Jr. Senators. In their final preliminary game, the squad fell short against top seeded Gaulios Jr. Canada, 3-2. A rematch in the Championship Game against Gaulios Jr. Canada was the best hockey game the team has played this spring. The 'Cats prevailed with a 3-2 win in an all out team effort! The team won all 3 AAA tournaments they competed in this spring and finished with an outstanding 10-1-1 overall record on the season! Well done, coaches Henri Langevin, Tom Jacques, Brian Hemenway, and all of the great little hockey players!