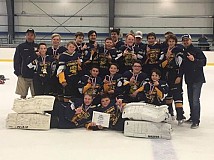 Peewee Gold went 4-0-0 en route to the Championship title!
The Northern Vermont Wildcats sent three competitive teams to the GMA Summer Tournament Series in Jay Peak, VT. The Squirt, Peewee Blue, and Peewee Gold teams did everything but dissapoint as they combined for a 10-2-0 record. The Squirt team went 3-1-0 and lost a heartbreaker in the Championship Game to take home 2nd place. The Peewee Blue team also went 3-1-0 and took home 2nd place after falling to the NVW Peewee Gold team. The Peewee Gold team went 4-0-0 and were crowned champions in Jay Peak.
The Peewee Gold team had stuck together for most of the spring/summer season. The team started the spring on the right foot, by winning the Jr. Monarchs Spring Classic. The team then finished 3rd place at March Madness, 2nd place at the Pepsi Tournament of Champions, and 2nd place at the Ocean State Lobsterfest. The team was determined to end their spring/summer season on a high note and that's exactly what they did.
On Friday night, the Gold squad ran past Premier Hockey from NH, 6-0. Saturday morning, the 'Cats defeated the HOA (Halifax, Canada) Aces, 6-0. Finally in their last preliminary game of the tournament, the Gold team made a statement win with a 7-1 win over the HOA (Halifax, Canada) Bearcats, which set the stage for a 'Cat vs. 'Cat Championship Game.
Incredibly, both NVW Peewee teams made the Championship Game. A Peewee Blue vs. Peewee Gold match-up was everything but disappointing. A back-and-forth contest ended with the Gold team prevailing to a 7-4 win and capturing the championship title. Job well done, coaches Dean Rock, Austin Rock, Greg Cox, Henri Langevin, and all players.
Congrats to all NVW teams on an outstanding weekend of hockey. What a statement it was to have all 3 NVW teams competing in their respective championship games! Best of luck to the Bantam and Midget teams, next weekend, as they head to Jay Peak!