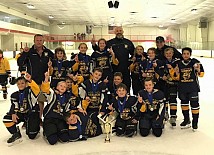 2006 Showcase went 5-0-0 to finish the season in style
The Northern Vermont Wildcats sent three teams to the North American Summer Championships AAA Tournament in Marlboro, MA this past weekend. All three teams battled hard, but the 2006 Showcase team came home victorious with a win over our very talented 2007 Showcase team, in the Championship Game.
The 2006 Showcase team went 5-0-0 and won the championship title. Both the 2006 and 2007 Showcase teams made the 2006 AAA Championship Game. After the 1st period, goaltender Phoenix Wells and the 07s kept the 06s at pair, with a 0-0 score. But the 06s pulled away near the end of the 2nd period and finished strong to take home the title. 
Playing up a birth year, the 2007 Showcase team impressed every single opponent. Hats off to coaches Henri Langevin, Justin Levy, and the squad! With both NVW teams making the Championship Game, the future is extremely bright within the program.
Also, congrats to the 2004 Showcase team on working hard all weekend. They ended the weekend with a 4-4 tie and knocked off their opponent from making the Championship Game. They faced some strong competition and was able to get better as a team, each game.
One final weekend of the season remains! Good luck to the Midget teams as they ship off to Clifton Park, NY for the prestigious Empire State Summer Championships, this upcoming weekend!