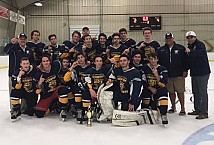 Midget (Gold) defeat St. Lawrence Thunder to win the season finale
The Northern Vermont Wildcats proudly hosted the 2017 Empire State Summer Championships, in Clifton Park, NY this past weekend. The tournament was extremely competitive with 2 Wildcat teams, the Binghamton Jr. Senators, and the St. Lawrence Thunder competing for New York State's top championship prize. The Northern Vermont Wildcats (Gold) team was victorious with a Championship Game win against the mighty St. Lawrence Thunder. The Wildcats Gold team fell 7-3 to the Thunder in the preliminary round, but was able to rebound for one of the best NVW games of the season, with a 4-2 win!
The top seeded and undefeated Thunder went up 2-0 in the first 5 minutes of the game. But, the Wildcats (Gold) team battled hard to finish the first half only down, 2-1. In (again) one of the best NVW games of the season, the 'Cats scored with 11 minutes left in the season finale to tie the game up at 2-2. Finally, with 3:56 left in the season, the 'Cats scored to take a huge 3-2 lead in the Gold Medal Championship Game. Defense and goaltending was key for the rest of the game, as the Thunder applied tremendous pressure to attempt to tie the game and force overtime. The 'Cats would seal the deal with an empty net goal with 18 seconds left, to take down the Thunder by a 4-2 score. The Gold Medal Championship Game was nothing less than exciting and nervewracking for both sides, but for the program it was an incredible way to end another memorable season!
Congrats to all teams on a great tournament weekend, but especially to the Wildcats (Gold) team on ending the season in style! Nice work, coaches Henri Langevin, Jim Damren, Anthony Langevin, and all players!