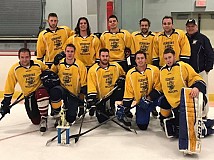 College team was loaded with NCAA D2 and D3 stand-outs
This past weekend, the Northern Vermont Wildcats sent their College team to the Boston 4v4 Championships at the Founders Memorial Rink in Somerville, MA. The team was comprised of NCAA Men's Division 2 and NCAA Division 3 Men's College Hockey players from Worcester State University, Framningham State University, and Southern New Hampshire University. The team took home the Silver Medal (2nd place) out of some of the strongest teams in New England.
In Game 1, the 'Cats faced off against Seacoast. With 52.7 seconds left, Joe Hawkins (Southern New Hampshire) scored to cut the deficit to 1, but it wasn't enough as they would fall 5-4 in a close game. Kyle Baker (Worcester State) buried 2 goals for the 'Cats, while Trevor Simonson (Southern New Hampshire) pitched in with 2 assists.
In Game 2, the 'Cats played the 2016 tournament champion, Suffolk. Although Suffolk would press at the end, the 'Cats were able to squeak out a 5-4 win. Josh Rothstein (Worcester State) made 28 saves in the win.
In a must win Game 3 (against Saints Hockey) to make the Championship Game, the 'Cats were led by Anthony Langevin (Southern New Hampshire) as paced the offense with 2 goals and 1 assist. Kyle Baker (Worcester State) chipped in 2 goals, while Joe Hawkins (Southern New Hampshire) added a goal. The squad pulled away with an 8-5 win. 
In the Championship Game, the College 'Cats ran out of gas as they fell to Seacoast, after leading 1-0 going into the final period. Mitch Purdie (Worcester State) scored both of the 'Cats goals and impressed the crowd with his creative offensive play.
We'd like to thank all of the NCAA D2 and D3 players for wearing the Wildcat Gold this past weekend! The team played some great, fast hockey to prep for each of their seasons, which are right around the corner. Good luck this winter, boys!