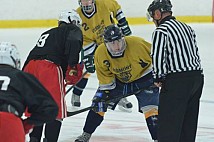 Mitch Purdie captains undefeated Worcester State
The Worcester State Lancers (NCAA Men's Division 3 ) University Hockey team is 7-0-0 in their first 7 games and is off to their best start since the late 1990's. To no surprise, the Lancers' top players are all Wildcats: Mitch Purdie (forward), Cody Weaver (defense), Colin Whitt (defense), and Josh Reinstein (goalie).  
Goaltender Josh Reinstein has been lights out for the Lancers. In the 6 games he has played, he has posted a perfect 6-0-0 record, with a .962 save percentage and 0.83 goals against average. He has 2 shutouts along with an incredible 126 total saves on 131 total shots. Reinstein has been named MASCAC Men's Ice Hockey Goaltender of the week twice in only a few short weeks. Leading the Laners' offense is Captain Mitch Purdie. Purdie has 5 points (1 goal and 4 assists) and anchors the top power play and penalty kill units for the Lancers. Anchoring the defensive core is Cody Weaver and Colin Whitt. Weaver has 4 points (1 goal and 3 assists) from the blue line and Whitt has chipped in with an assist. Both see tremendous minutes on defense and are a major reason why the Lancers have given up an average of less than 28 shots per game.
"Purdie, Weaver, Whitt, and Reinstein are not only talented hockey players, but awesome guys. They are natural leaders on and off the ice and are a major reason why the Lancers are seeing much success, early on in the season. Keep working hard, boys!" General Manager, Anthony Langevin, was quoted saying.
Purdie, Weaver, Whitt, and Reinstein have helped the program capture multiple tournament championships and currently play on the College team.