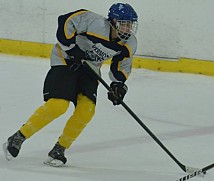 Atkins has a 10-14-24 scoring line for the Seahawks so far this season
The Northern Vermont Wildcats are excited to announce that 1997 forward Tim Atkins has committed to play NCAA Men's Division 3 Ice Hockey for the Becker College Hawks. Akins currently plays Junior A hockey for the Total Athletics Seahawks in the Eastern Hockey League (EHL).
This year with the inaugural Seahawks, Atkins continues to impress on a young and less experienced squad than most teams in the league. He currently has a 10-14-24 scoring line in the teams 34 games and leads the team by over a handful of points. Last year at the Pre Draft Showcase, the TA Seahawks recruited Atkins from the Wildcat Junior A team. The Seahawks were very impressed with his play and were thrilled to get a veteran and natural leader, like him, to their new program.
"When you mention a hard working hockey player, Tim Atkins comes to mind," General Manager Anthony Langevin was quoted saying. "Timmy has been in our program since he was just a Peewee aged hockey player. Since then, he has worked tremendously hard with us in the off-season and with any team he has played with in the fall/winter hockey season. Becker is getting a great hockey player, but even a better person. I couldn't be more proud of Timmy. Go Hawks!"
Atkins will suit up for the Hawks in the 2018-19 season. We wish him the best of luck on the ice, as well as the entire Hawks squad!