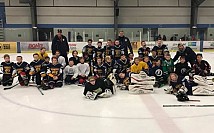 Last year's NVW Training Camp in South Burlington, VT
The Northern Vermont Wildcats are excited to announce a Training Camp schedule in Binghamton, NY, in conjuction with their affiliate the Binghamton Junior Senators.
Training Camp will be March 16-17th at the Ice House Sports Complex in Binghamton, NY. The schedule is below for the weekend. Admission includes FREE entry into BOTH Junior Senators Junior A Playoff Games for the entire family!
A few spots still remain. Please contact NVWhockey@aol.com to sign up, today!
March 16-17th: Binghamton, NY
SATURDAY
11:30am - Check in to rink (Ice House Sports Complex, Binghamton, NY)
12:30pm-1:30pm - First on-ice session
1:45pm-2:30pm - Off-ice session
3-4pm - Second on-ice session
6:30pm - Doors open for Junior A Playoff Game
7:30pm - Warm Up on-ice for Junior A Playoff Game
8:00pm - Puck drop for Junior A Playoff Game
SUNDAY
9:45am-10:45am - Third on-ice session
11:30am - Warm Up on-ice for Junior A Playoff Game
12:00pm - Puck drop for Junior A Playoff Game