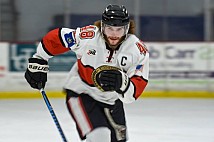 Melso led the Junior A Elite team to a 1-1-1 finish at the Chowder Cup last summer
The Northern Vermont Wildcats are excited to announce that Captain Eric Melso has committed to play NCAA Division 3 Men's Ice Hockey for Morrisville State.
Melso is in his second season with the Binghamton Junior Senators of the NA3HHL. This season, he has 35 goals and 64 assists for 99 points. Good for 5th in the NA3HL and 2nd on the team. He centers both the first line and first power-play unit for the squad, as well.
"Morrisville State is getting a quality, solid hockey player. A gritty, tough noised player who gives it his all for his teammates. Eric leads by example on and off the ice and has been a great captain for a mostly younger team, this season. We can't wait to follow Eric at Morrisville where he will be a go-to player from year one, we know it," General Manager, Anthony Langevin, was quoted saying.
Melso has led the Junior A Elite team to strong finishes in the Chowder Cup Showcase. Last season, the squad went 1-1-1 in a very difficult bracket. Melso led the team with 4 points in 3 games.
Congratulations to Eric and his Family, and good luck to the Mustangs next season!