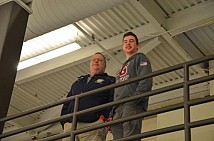 The Northern Vermont Wildcats are pleased to announce that 1998 goaltender Jake Horoho has committed to play NCAA Division 3 Men's Ice Hockey for the Middlebury College Panthers for the 2019-2020 season.
Jake currently plays for the South Shore Kings in the USPHL. In 32 games this season, he has a 2.56 Goals Against Average and a .920 Save Percentage. 
With the Wildcats, Jake has been with the program for over 6 straight seasons. His father, Paul, has also coached with the program for 6 straight seasons as well. He started as a Bantam and finished on the Junior A Elite team last summer. Jake and the program have captured many tournament championships, but will be remembered for leading the team to a 3rd place finish in the Chowder Cup Showcase two years ago. Over 100 teams competed in the Showcase and Jake and the squad finished with a 5-1-1 record. In addition, at the U18 level, Horoho led the lead to a 2nd place finish in the Hub Cup Showcase, out of 18 teams from all over the country. Horoho finished with a 5-1-0 record and backstopped the U108 team to a strong finish in the showcase. 
Congratulations to Jake and his family on the awesome accomplishment! Go Panthers!