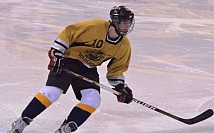 Last season, Nick Boyagian committed to play NCAA Division 1 Men's Ice Hockey for the Sacred Heart Pioneers. At the conclusion of his freshman year, Boyagain posted 16 points in 26 games, which included 9 goals and 7 assists.
Before playing at Sacred Heart, Boyagain accumulated 84 points in 110 games for the North American Hockey League's New Jersey Titans. He led the team to a strong playoff run before falling short in the later rounds. Before playing for the Titans, Boyagain captained Albany Academy in the New England Prep School Hockey League for two seasons. He posted 107 points in 63 games and led Albany Academy to two successful seasons against some of the strongest Prep Schools in the country.
For many Spring/Summer seasons, Boyagain played on older teams and contributed a magnitude of points to various Championship winning teams from Peewees to the Junior A Elite team.
Keep working hard, Nick!