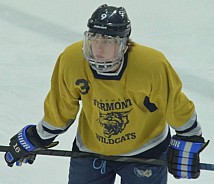 Purdie captained many Wildcat teams to various Championships
Wildcat Mitch Purdie finished his final season with NCAA Division 3 Worcester State, just weeks ago. Purdie had a strong career with Worester State and captained the team in his final 2 seasons with them. 
Each season at Worcester, Purdie accumulated more points and took more of a leadership roll with the team. For his freshman campaign, Purdie scored 6 points, sophomore year scored 13, junior year he snagged 19 and senior year he hit a career-high 34 points. During his junior year, he led Worcester to a 12-0-0 start and for the first time in school history, led the team to a National Ranking. In addition to Purdie, there are 3 other Wildcats at the school, playing for the NCAA Division 3 Hockey Program, as well: Cody Weaver, Colin Whitt, Josh Reinstein.
Purdie played his Midget and Junior Hockey Spring/Summer seasons with the Wildcats.
Congrats to Mitch and his family on a great College Hockey career!