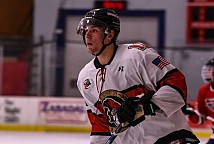 Padgeon was an offensive force last summer on the Wildcat Junior A team
The Northern Vermont Wildcats are thrilled to announce that Mike Padgeon has committed to play NCAA Division 3 Men's Ice Hockey for Anna Maria College.
Padgeon is in his second season with the Binghamton Junior Senators Junior A Hockey Club. This season, Padgeon surpassed the Senators' all-time leading scorer with 123 points in 47 games (51 goals, 72 assists). In addition, Padgeon serves as the team's Assistant Captain and has anchored the top power play and penalty killing units all year. The Senators are an incredible 45-6-0 on the year and will be competing at the National Championships this week.
Wildcat General Manager and Senator Head Coach, Anthony Langevin, was extremely excited to hear of Padgeon choosing Anna Maria. "Mike is in his second season with us. Last year, he filled various roles we needed filled on the team. This year, he has stepped in to be a 1st line scoring power forward. Mike worked hard over the off-season and we named him an Assistant Captain for his great attitude and incredible leadership with our younger players. The most exciting part of the season was when he became our all-time points leader for the club, in the last game of the season. I know the coaching staff at Anna Maria very well, and am excited that he will be a top player for them next season."
With the Wildcats, Mike played on the program's Junior A team. The team found much success, knocking off various top Junior Hockey programs as well as leading the team in points for each showcase he played in with the program. 
Congratulations to Mike and his family and good luck to to the Amcats on the ice next season!