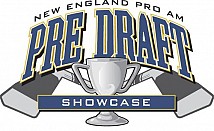 The Junior A teams will play teams from all over the country at the Pre Draft
The Northern Vermont Wildcats will be sending their Junior A Elite and Junior A teams to the Pre Draft Showcase in Boston, MA this weekend. The Pre Draft Showcase is one of many showcases held before the NHL Draft in the upcoming weeks.
"Both our rosters are loaded with talent from all over the country. We have Prep School, Junior Hockey, and College Hockey players on both teams. We have some very steep competition ahead of us, but hope to be able to make a push to play in the Playoff Round on Sunday," General Manager Anthony Langevin was quoted saying. "In addition, this is a phenominal opportunity for our players to be seen by extremely high level scouts."
Last year, the Junior A team went 1-2-0 in the showcase but upset a strong team from New Jersey with 5 NCAA Division 1 commits, including a current goaltender on Team USA.
Both teams' schedules are below. Good luck to both squads as they look to impress some of the highest level scouts in the world.
Friday, May 10th
6:40pm vs. DMV Prospects @ Foxboro Sports Center
10:00pm vs. Maryland Black Bears (NAHL) @ Foxboro Sports Center
Saturday, May 11th
8:40am vs. Elite Hockey Battalion @ New England Sports Village
10:20am vs. Top Prospects (White) @ New England Sports Village
6:50pm vs. Mass Titans @ Foxboro Sports Center
8:30pm vs. Roc City Elite @ Foxboro Sports Center
Sunday, May 12th
Playoff Round (Winners of each bracket)