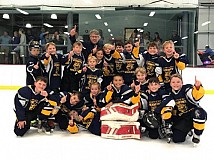 Fill out a Recruiting Questionnaire on the left tab to join the Tradition, today!
The Northern Vermont Wildcats Elite Spring/Summer Hockey Program is excited to announce its 2020 Spring/Summer plans. The program will be officially entering its 12th season in 2020.
"We are very excited to be entering our 12th season," General Manager, Anthony Langevin, was quoted saying. "We have had 11 very successful seasons in regards to winning as a program, having players receive quality coaching from experienced and high level coaches, as well as player development and movement onto the highest levels of hockey possible. Our program is for the player willing to work hard to make their AAA hockey team, or a quality Prep School hockey team, or a high level Junior hockey team, or an NCAA College hockey team. We have had close to 1,000 players move onto Prep School, Junior, and/or NCAA College hockey teams since our existence and we look forward to helping move more on in the near future."
To be considered for a 2020 Elite Spring/Summer Tournament Team, please fill out the Recruiting Questionnaire at: http://www.northernvermontwildcats.com/recruits. Information will be sent out to all invited players by November 1st. Join A WINNING TRADITION and A TRADITION OF EXCELLENCE, today!
#WildcatHockey #WildcatDomination #BleedBlue #RollCats #Exposure