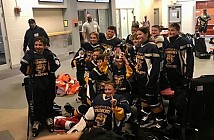 Squirts went 4-0-0 en route to the title
The Northern Vermont Wildcats Squirt team captured the Ocean State Lobsterfest Tournament Championship with a 4-2 win over a strong Capitals team.
On Friday afternoon, the team defeated the Capitals for the first time, 3-2. The 'Cats would score with 37.7 seconds left to take the victory. On Friday night, they took on the Tribe. They scored early and often en route to a 6-1 victory. Finally on Saturday in the final preliminary game, the squad defeated the pesky Eagles by a 4-2 score to punch their ticket to the Championship Game.
On Sunday, the #1 seeded 'Cats took on the #2 seeded Capitals in a great game. The Capitals would score late to get within 2 goals, but it wasn't enough as 'Cats secured the 4-2 victory and the Tournament Championship title! Congrats to the players, as well as Coach Henri Langevin!