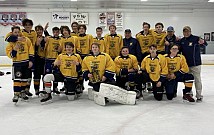 U16s go a perfect 5-0-0 en route to the Gold
The Northern Vermont Wildcats kicked off their 2022 Season at the North American Spring Championships Tournament in Attleboro, MA. The Program sent 3 teams (Peewee, U16, and U18) to the competitive tournament. All 3 teams made their respective Championship Games as the #1 seeds and the U16 team won their Divisional Championship Game.
The U16s faced 2 programs throughout the weekend. On Friday afternoon, they defeated S4 Hockey Club 8-4 and on Friday night, the Long Island Mavericks 3-2. On Saturday morning, they once again faced off against S4 Hockey Club and defeated them in a close match up: 2-1. On Saturday afternoon, the 'Cats powered through to defeat the Long Island Mavericks 5-1.
The U16 'Cats advanced to the Championship Game as the #1 seed and faced off againt a familiar foe in S4 Hockey Club. S4 took a 3-1 lead early in the game, but the Navy and Gold scored 4 unanswered goals to win 5-3 and take home the Championship title! Congrats to all of the players including coaches Henri Langevin, Greg Cox, and Brent Carpenter!
The entire program went 9-2-2 on the weekend and took home 2 Silver Medals and 1 Gold Medal. Congrats to all on a great start to the season! #RollCats