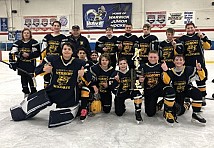 Bantam (Yellow) was perfect going 4-0-0 on the weekend
The Northern Vermont Wildcats Bantam (Yellow) squad started their season this past weekend at the North American Spring Championships in Attleboro, MA. The team went a perfect 4-0-0 to win their Divisional Championship!
On Friday, the squad kicked off the tournament defeating the Brewer Witches, 6-0. On Saturday, the shutouts continued as the team beat the Southampton Penguins, 6-0, and the Rauls Sabres, 5-0.
The #1 seeded 'Cats would advance to the Championship Game to take on the #2 seeded Rauls Sabres. The Sabres were determined to give the 'Cats a good game and that is exactly what they did. The Navy and Gold would win a tight match-up, 3-1, to win the Spring Championships in perfect style! Congrats to Coach Henri Langevin and the entire squad on a phenominal weekend! #RollCats