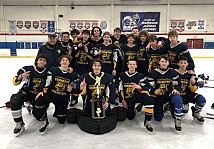 U16s go 4-0-0 to win NA Spring Championships
The Northern Vermont Wildcats U16 team started their 2023 campaign at the North American Spring Championships in Attleboro, MA this past weekend. They did everything but disappoint as they cruised to winning the Championship.
On Friday, the team defeated a pesky Bearcat Academy team, 6-1. On Saturday, the team went on take home close wins against Providence Hockey Club, 4-2, and Black Ice Hockey, 4-0. The battle of undefeated teams advanced to the Championship as the 'Cats would advance with S4 Hockey Club.
The #1 seeded 'Cats started scoring early and often as they pulled away to defeat the #2 seed S4 Hockey Club, 6-1, to win the Spring Championship Divisional Championship! Congrats to Coach Henri Langevin and the players on a domination weekend for the squad to kick off 2023 the right way! #RollCats