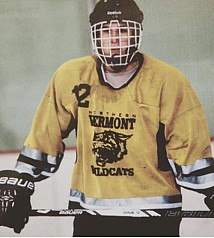 LePage has been with the program for three straight spring and summer seasons
The Northern Vermont Wildcats are happy to announce that a duo of Wildcats, Alex LePage and David Piela, have committed to play Junior A hockey for the Northeast Generals in the North American 3 Hockey League (NA3HL).
Both boys lead younger high school teams to a great final stretch in their seasons. LePage anchored the Somerset Berkley High School defense, while Piela led the Durfee High School offense in scoring.
LePage and Piela have played on many Wildcat teams before, but finished on the Midget Premier team. Both anchored the defense a few weeks ago in the team's 2nd place finish in a top notch junior hockey showcase in Marlboro, MA.
Good luck to both Alex and David on the ice with the Generals this upcoming fall!