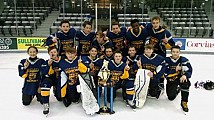 The 2004 Elite team defeated RecruitU (PA) 3-2 in the Gold Medal Championship Game!
The Northern Vermont Wildcats sent 17 teams to their annual competitive Ocean State Lobsterfest Tournament, June 2-4th, in the state of Rhode Island. The program hosted 18 divisions, 86 total teams, ranging from Mites to Midget U18s, with teams from all over the world.
The program sent 17 NVW teams and competed in 14 of the 18 divisions. Out of the 14 divisions they competed in, the NVW won 6 Gold and took home 4 Silver Medals at the Lobsterfest.
The 2008 Elite team went 4-0-0, the 2007 Elite team went 3-0-1, the 2006 Elite team went 4-0-0, the 2004 Elite team went 4-0-0, the Mite Select team went 4-0-0, and the Peewee Select (White) team went 4-0-0 all en route to their divisional championship titles!
The 2005 Elite, 2003 Elite, and Squirt Select (White) teams all lost in a shoot-out in their divisional championship games, while the Peewee Select (Gold) team took a tough 2-1 loss in their championship game.
Congratulations to all NVW teams on a great weekend of hockey and thanks to all of those who made this weekend a weekend to remember!