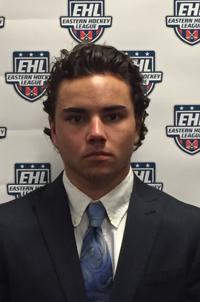 Atkins leading all Seahawks with 11 points so far!
The Northern Vermont Wildcats are thrilled to announce that Junior A forward Tim Atkins has had a great start to his season, thus far! In 10 games with the TA Seahawks Junior A hockey club in the Eastern Hockey League (EHL) so far, Atkins has 5 goals and 6 assists for 11 points. He currently leads his team in points as the new Junior A Seahawks team looks to be competitive in the EHL for their inaugural season. He also received the 3rd star of the month for the entire EHL, for his strong offensive performance.
"I'm extremely proud of how Timmy has started his season so far, with his new team. He's a skilled player with a lot of talent. Whichever NCAA college hockey team commits him for next season, will be lucky to have him. We are excited to have him back next Spring/Summer season!" General Manager Anthony Langevin was quoted saying.
The program would like to wish Tim the best of luck, as his season continues this weekend! Go Seahawks!