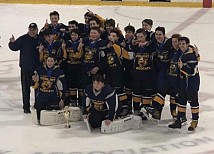 The Bantams went 5-0-0 and defeated Somerville to take home the Championship
The Northern Vermont Wildcats' Bantam Select team won the Pepsi Tournament of Champions, Bantam Divison, with a 5-3 win over Somerville's top team in the Championship Game. The team rolled to a 5-0-0 perfect record as well throughout the weekend.
On Friday, the team defeated a relentless Somerville team 4-2. Saturday morning, the team came-from-behind to defeat the Chevaliers from Canada. Saturday night featured a well balanced attack in a 4-0 win over the Blue Team. The squad advanced to the Semi-Finals as the #1 seed out of 9 teams from around the East Coast.
The #1 seeded Bantam Select team defeated the #4 seeded Taunton Bears, 3-1, to advance to the Championship Game against a familiar foe with a few added players; Somerville. Somerville would jump out to a 2-1 lead, but the Bantams would score 4 goals in a row and hold off a late Somerville attack to take home a 5-3 victory. Congratulations to Coach Henri Langevin and the team for a phenominal weekend of Wildcat Hockey!