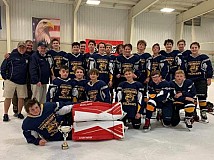 Bantams went 4-0-0 to capture Summerfest Championship title
The Northern Vermont Wildcats Bantam team went 4-0-0 and defeated the Upper Valley Stars in the Championship to win the Ocean State Summerfest Championship title, July 31-August 2nd.
The 'Cats started their weekend with a "solid" 7-1 win over the Solid State Lasers on Saturday morning. The team would continue their domination with a 7-2 win over the New England Tomahawks on Saturday afternoon. Finally on Sunday morning, the 'Cats would face the also undefeated Upper Valley Stars. Tied 1-1 after the half, the squad would score 3 unanswered goals in the final half to take home a 4-1 victory and earn the top seed in the divison. The Stars would take the #2 seed to set up an exciting Championship Game.
In the Championship, the #1 seeded Wildcats would score early and often as they trounced the Upper Valley Stars by a final score 7-0. The 'Cats scored 4 in the first half and 3 in the final frame to capture the game and the tournament. Congratulations to the players on a fantasic weekend of Wildcat Hockey and congratulations to Coaches Henri Langevin, Justin Levy and Brent Carpenter!